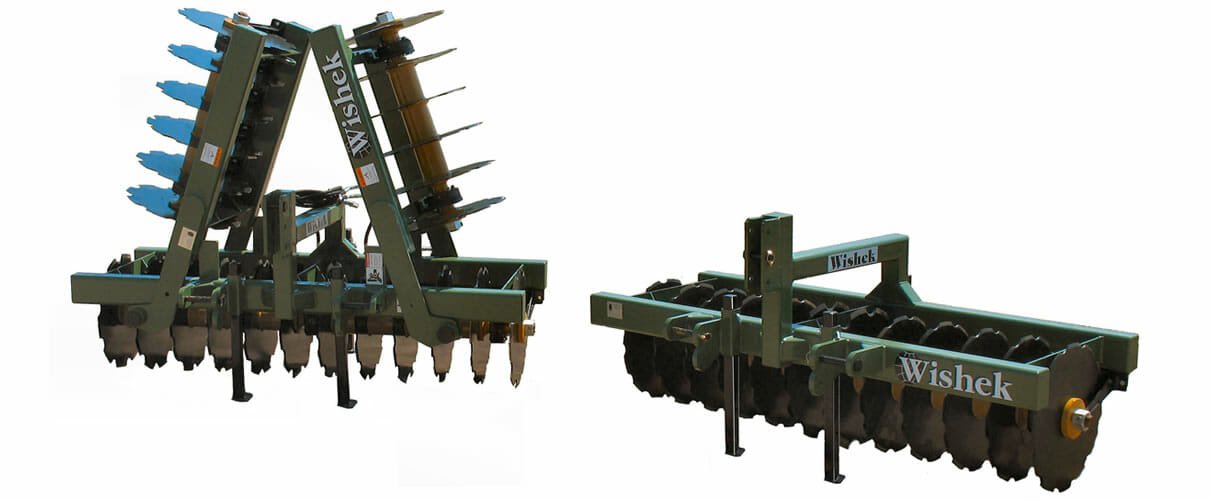 Primary Use
The Wishek Straw Press is ideal for road contractors, landscapers and nurseries to incorporate materials, such as straw, straw mulch and others into newly seeded areas to prevent soil erosion.
Secondary Use
The Wishek Straw Press is excellent tool for farmers, ranchers, parks and other recreation areas to aerate soils that have become compacted over time, such as pastures, hay land, sports arenas, and golf courses.
24 x 1/4″ notched coulter blades
8″ blade spacing
1-15/16″ gang shafts
214 series re-lube gang bearings
Blade scrapers
Cat I and Cat II 3-pt. mount
6″ x 4″ x 3/8″ Tubular frame
Three jack stands
Hydraulic cylinders with hoses to tractor (16′)
General Information, Weights and Dimensions
Model 3-Point 24" x ¼" Notched Coulter Blade/ Rigid Stand
Model Number

Cutting Width

No. of Bearings

No. of Blades

Transport

Weight (lbs.)

Approx Wt. (lbs.)

Width

Height

Per Blade

Per Foot

8 FT.
7' 4"
3
12
7' 11"
3' 8"
124
203
1,491
16 FT. Wing
15' 5"
7
24
7' 11"
6' 6"
130
202
3,118
Due to working depth and ground conditions. HP requirements will vary.